Learn About Me and My Activities

* * * Computer and hardware service
- Windows XP, 7, 8, 10 maintaining
- Laptop and desktop repair service
- Virus and spyware removal
- Saving data from malfunctioning HDD's
- Notebook and desktop dust cleaning
- Laptop and desktop computers optimization
- Internet marketing and Your job's promotion
- Website creating and maintaining

* * * IT videos from my YOUTUBE channel
* A 24-yr old notebook repair (made 1989) YOUTUBE LINK
* What happens when unqualified person tries to fix computer YOUTUBE LINK
* Why notebooks overheat and how to avoid malfunction YOUTUBE LINK
* * * Some additional info
- Project leader - furniture for School "Radoje Domanović", about 10000 EUR, Foundation Novak Đoković and "Prima".
- Project leader - Gas boiling room for School "Radoje Domanović", 55000 EUR, Embassy of Japan.
- Since 2002 I'm living in Paraćin, city of my ancestors (Milićević and Vučković families from Striža village, but also I have to mention cousins from Levač, Germany, Slovakia and Srem :) )
- I didn't invent this heating system, I just made it using instructions from the internet, but journalists exaggerated the story too much. This is a dailymail.co.uk article.
- TEACHING - Working with students from fifth to eighth grade, the main area is mathematics and computer science. Have students' achievements on district and republic level (republic - now the state competition). There are arriving first generations of my students who are successfully graduating technical colleges!
- MISCELLANEOUS - Translation of technical literature written in German and English into Serbian, consulting services, a wide range of software services...
- SCHOOL LOG COMPLETING v2.0 – The program was intended primarily for elementary school teachers (V to VIII grade) for statistical data analysis and to help them to fill tables on the end of the log. Some features: Calculating average marks per student and per subject, summarizing the valid and invalid absences. Final results are in the form of tables at the end of the log. Developed in MS Excel.
-Link- (33 kB)
---
ANDROID DEVELOPMENT
XML Layouts, JAVA coding, working in Android Studio IDE,
- Link to Android application "Prime numbers, GCD and LCM" on the Google play.
WEB DEVELOPMENT
---
PLACE TO TALK WITH ME
The best way to contact me is to send me an email, using 0x05dc AT gmail.com
or darko AT milicevic.biz
After that, we can arrange chat over skype, facebook, viber, or on short waves using amateur radio :)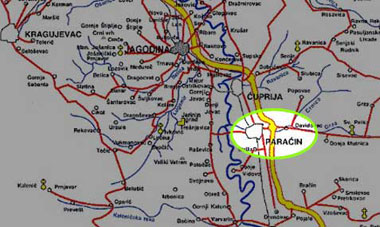 Map of Central Serbia
---